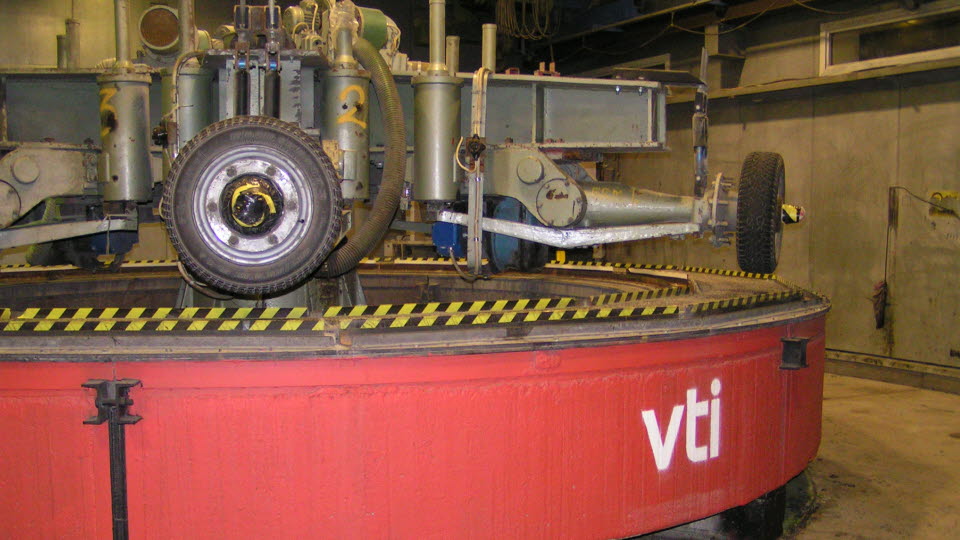 The unique road simulator at VTI has been used for pavement wear studies for decades and has, in later years, also become an important resource for research on non-exhaust particles and microplastics from road and tyre interaction.
The simulator is a carousel-like equipment, where four wheels rotate on a circulator track. The pavement of the track and the tyres can be chosen as preferred and up to 14 different pavements can be tested simultaneously for wear. Both temperature and humidity of the air in the room can be controlled, which is important for studying wear in the right conditions.
The road simulator is today used both for pavement wear studies and for studies on wear particle and microplastic emissions and properties and how these relate to the choice of pavement and tyre combination, speed etc.
The road simulator is available for research and development, in co-operation with academies and/or companies.
Ongoing and recent projects, examples:
Nordic Road Dust Project II - NorDust II, (NordFoU)
Governmental assignment on microplastics from road traffic (Swedish government)
Nordic Road Dust Project - NorDust (NordFoU)
Relation between tread wear marking and actual wear and PM emissions (Joint Research Centre)
Modern cement concrete road pavements - wear and particle emissiosn from new developed pavaments (BVFF, Swedish Transport Agency)
Recycling of asphalt pavements made of wear resistant aggregate