Wet dust sampler (WDS II och III)
VTI develops and builds specialized equipments for testing and sampling.
On the road surface, dust and chemicals accumulate from sources in the traffic environment and its surroundings. This road dust contributes, via suspension, to the particle content of the air as well as to contamination of the storm water.
To be able to measure the amount of road dust and analyze the properties, effective and repeatable measurement methods are needed. VTI has developed the WDS (wet dust sampler), which is an equipment that combines a high-pressure washer with a sampling unit. WDS III is the latest version of WDS for water-based sampling and analysis of dust on dense surfaces. It combines time-controlled, repeatable high-pressure washing of a sample surface with moving the sample into a sample bottle using compressed air. The sample can be analyzed for:
Dust load
Dust size Distribution
Chemical analysis of solid material (inorganic, organic, elements etc.)
Chemical analysis of dissolved material (ions from e.g. road salt, dust binding agent).
WDS can be used for (e.g.):
Evaluation of road operation strategies on road dust
Measurement of residual salt (or other chemicals) on the road surface

Source identification and emission data for air and water pollution in the road environment, e.g. microplastics from road traffic.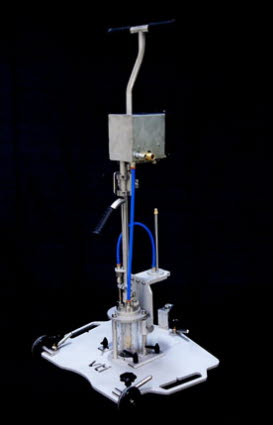 WDS has been used since 2006 in a number of research and investigation projects, where the importance of road dust to air quality has been in focus. Since 2018 it is also used for studies of microplastics in the road environment. The dynamics of the dust load during the year in relation to natural factors as well as traffic and operational measures has been studied and contributed to unique knowledge of the properties of the dust and dynamics and which factors are important in order to reduce the dust's impact on air quality. Clients are both authorities, municipalities and companies.
The Swedish Transport Administration, The Swedish Innovation Agency (Vinnova) and the Norwegian Public Roads Administration have contributed to the development of the sampler, which from 2017 is also used by the Norwegian Public Roads Administration in Norway and by SYKE (Finnish Environment Institute). It thus becomes the first sampling method for road dust, which is available in several copies and is used in several research environments, which will contribute to increased data volumes and to development opportunities for both sampling and analysis methods.
Ongoing and recent projects, examples:
WeaRS
In collaboration with IVL, and financed by the Swedish Transport Administration, a new method is being developed for measuring the emissions of wear particles from passing vehicles. WDS is used to define the amount of road dust on the test surfaces used in the development.
Road sweeping as source to and measure against micro plastics
Road sweeping removes material from the road surface, but how effectively does it remove microplastics from road traffic and to what extent is plastic spread from the plastic brushes used by the cleaning machines? For the Swedish EPA, VTI investigates this with the help of WDS, among other things.
NorDust II 2019-2022
Continuation of NorDust (see below). The project is funded by all Nordic Road Authorities via NordFoU and is a collaboration with MetNorway (Norway), NILU (Norway), Metropolia (Finland), SYKE (Finland), SLB-analys (Sweden) and the University of Iceland (Iceland).
The tyre/road interaction PhD project 2016-2020
In a PhD project funded by the Swedish Transport Administration and VTI, two PhD students, affiliated with KTH, are working on emissions linked to the interaction between tyres and road pavement. One of the doctoral students focuses on particle emissions and one on noise and rolling resistance. In the project, among other things, an evaluation of a porous pavement was carried out on Industrigatan in Linköping.
NorDust 2015-2018
The project was a Nordic collaboration to improve the knowledge situation on how emissions of road dust can be reduced and modeled in a better way. Field studies provide the basis for improved parametrization and further development of the Nordic emission model NORTRIP. The project was funded by NordFoU and was a collaboration with MetNorway (Norway), NILU (Norway), Metropolia (Finland), SYKE (Finland), SLB-analys (Sweden) and the University of Iceland (Iceland). The project follows up on the NorDust project.
NorDust - Nordic dust road project (2019, DiVA)
External link.
OptiDrift 2015-2018
The project aimed at coordinate and optimize winter and wspring operation of streets and roads to maintain good accessability while improving air quality. It was financed by Vinnova and was a collaboration with Stockholm air and noise analyses (SLB-analys), the Traffic office in Stockholm, PEAB and DISAB Tella.
Follow-up of measures against road dust and PM10 in Stockholm 2011-2019
Yearly follow-up of road dust load and PM10 in collaboration with SLB-analys to evaluate and improve measures agianst high PM10 levels in Stockholm.