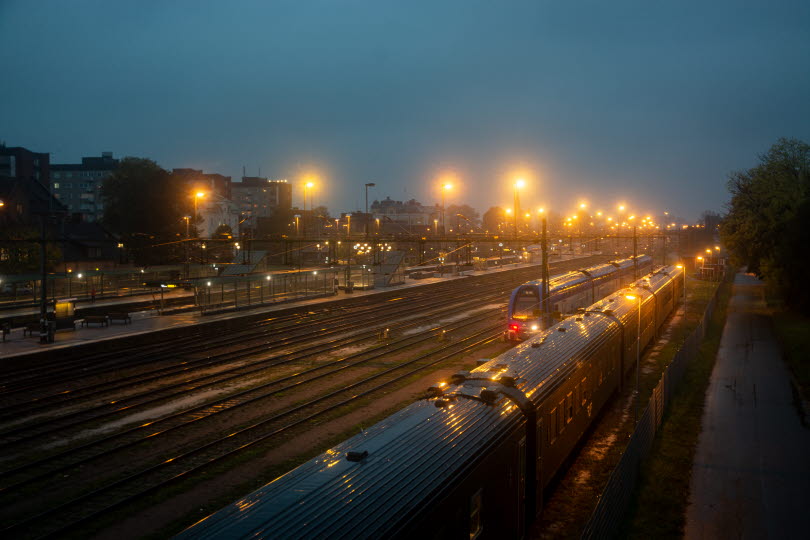 VTI's research into rail transport is based on Sweden's transport policy objectives and aims to contribute to their fulfilment. The availability of efficient transport for individuals and businesses is an integral part of the transition to a sustainable future society.
In its most general form, this means that rail transport needs to be analysed surrounded by other modes of transport, and its effects also need to be evaluated for the whole of society. At the same time, rail traffic is regulated and operated in a coherent infrastructure, which means that events that affect traffic locally can spread and affect, for example, punctuality and capacity at system level.
The work of VTI in the research field of rail transport reflects this breadth of transport policy and captures aspects ranging from local (health effects, mechanical degradation and condition monitoring, traffic safety etc.) to global (environment, economy, traffic, education etc.) level. See the presentation of our research areas below.
VTI has been conducting research on rail transport since 1988. Today, about twenty people are active in this area, the majority of them senior researchers. Together, the personnel group represents a broad and deep competence base which, with an interdisciplinary approach, has the ability to investigate the complex rail transport system from many different angles.
Research into rail transport at VTI is conducted in close collaboration with other industry actors in public administration, industry and universities and colleges.
VTI runs the Train Simulator Development Forum For Users (TUFFA) in which a number of rail operators and train driver training institutions are included. In TUFFA, train driver simulators are developed based on the members' actual needs and experience. The forum is also an effective channel for reaching out to the industry with new research results.
VTI also coordinates the industry programme Make Way for the Future (BVFF), which also includes the Swedish Transport Administration, KTH, LTU, Ramböll and ÅF.
VTI is also one of the academic partners in the industry programme Capacity in Railway Traffic (KAJT).
VTI's research into rail transport aims to improve the safety, robustness, capacity and punctuality of the transport system by proposing measures that are economically efficient while minimising the negative impact of rail transport on the environment and health. This is done through the study of:
the organisation of rail transport systems and the interaction of different actors in the decision-making and planning processes that determine the design and use of transport systems
how to improve human-technology interaction through changes in the physical design of infrastructure and vehicles, training initiatives and the development of new working methods for operational traffic management, staff on board trains and track installation
how the vehicle and track system, including the signal safety and overhead line systems, shall be designed, monitored and maintained to minimise their life-cycle costs, while taking into account environmental and health impacts and any conflicting systemic effects such as robustness and punctuality
the root causes of accidents and incidents in rail transport systems, and how safety can be increased through, for example, measures in the design of infrastructure and vehicles, training initiatives or the development of new working methods and auxiliary systems
traffic flows where rail transport is analysed together with other modes of transport
methods and tools to support traffic planning where infrastructure managers, traffic operators and contractors can work together to exploit the full capacity of the transport system
transport and socio-economic effects of investments and instruments for the financing, procurement and pricing of rail transport systems
the undesirable impact of transport systems on their surroundings in the form of climate, environmental, noise and wear particulate emissions. Conversely, research is also examining how rail transport systems are affected by, and how they can adapt to, a changing future climate.