Accredited testing is conducted in VTI's laboratories. In addition to being covered by VTI's ISO 9001 and ISO 14001 certifications, the laboratories at the Infrastructure department (INFRA) are accredited in accordance with SS-EN ISO 17025 for a number of testing methods within road surface materials, crash safety and vehicle testing.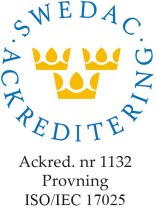 In addition to the institute's own controls, inspections and everyday work in good faith, compliance with the accreditation is also checked by Swedac who performs on-site inspections every 16 months (3 inspections per 4-year period).
VTI performs accredited testing impartially and with confidentially according to EN ISO/IEC 17025:2017 and legal and authority requirements.
Scope of the accreditation, Swedac (in Swedish)
External link.
Our accredited laboratories
Measurement Technology Laboratory
Brake testing
Noise testing
Contact: Laboratory Manager Håkan Carlsson
Crash Safety Laboratory
Child restraint systems
Crash barriers and road equipment
Contact: Laboratory Coordinator Jan Wenäll
Road Material Laboratory
Binder/bitumen
Asphalt mixtures
Aggregates/unbound materials
More information about road material testing
Contact: Laboratory Coordinator Håkan Arvidsson