Measurement of road surface
VTI offers road surface measurement using a Road Surface Tester system.

The Road Surface Tester, or Laser RST (see figure below) is a testing system that can measure and collect data on several different road surface properties at normal traffic speeds and to a large extent independent of the speed variations of the testing vehicle. Thanks to this ability, there is no disruption or affect on either the test quality or other road traffic.
Testing is carried out without touching the test object. This means that no precise calibration is necessary and wear and tear on the test equipment is kept at a minimal. Positioning the measurements is done using the Global Navigation Satellite System, GNSS, and distance rolled, which means, for example, that data is positioned using coordinates. The sensor for the rolled distance is placed on the free-rolling front-left wheel and therefore measures the distance rolled in the middle of the road.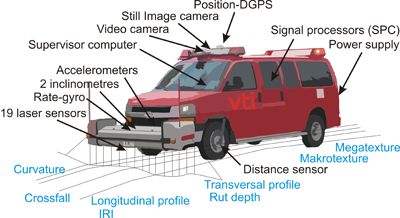 The Laser RST measures:
Some of the properties that can be measured using Laser RST
longitudinal profile

cross-profile

camber

curvature

rise and fall
megatexture

macrotexture.

For calculations of:
On the basis of the above named properties, it is possible, in real time or afterwards, to calculate measurements such as
rut depth
rut area
theoretical water depth
distance between rut bottoms
verge depth
fill volumes
irregularities (with the help of a simulated straight edge)

megatexture IRI (International Roughness Index)

MPD (Mean Profile Depth)
The normal measurement
During a normal measurement, the following are measured and calculated simultaneously and in real time:
rut depth; max, left and right (20 m)

IRI; left and right (20 m)

macrotexture, MPD in three ruts (1 m)

megatexture; two ruts (1 m)

curvature, rise and fall (20 m)

camber (1 m)

digital images (20 m)

position (DGPS)

The diagram below shows the positions from which different data is collected. Usually, the frequency or position can be adjusted. The various conditions that are measured are normally presented per 20 m. The possibilities are many – the testing system is flexible and VTI has a wide range of skills, so do not hesitate to contact us if you have any questions or specific requirements.