Meet our keynote speakers
We are proud to present our keynote speakers at the RS5C 2022 conference.
Dr. Matts-Åke Belin
Keynote title: Implementation of the Global Plan for the Decade of Action for Road Safety
Dr. Belin is, since January 2022, Global Lead for the Decade of Acton for Road Safety at the World Health Organization. Dr. Belin has over 30 years of experience within the Swedish government primarily worked with overall safety policies, strategies and collaboration with different stakeholders.
Dr. Belin has also chaired the technical committee 3.1 on National Road Safety Policies and Programme, World Road Association and served as the international representative at the US Transportation Research Board (TRB) standing committee ANB 10 Transportation Safety Management. Dr. Belin was also the Swedish delegate in UN Road Safety Collaboration and he has served as national and international senior policy adviser and supported different Vision Zero initiatives around the world. Dr. Belin was also deeply involved in the preparation and organization of 3rd Global Ministerial Conference on Road Safety in Stockholm February 2020. Before Dr. Belin joined World Health Organization, he was the Director of Vision Zero Academy at the Swedish Transport Administration.
Parallel with his work within the Swedish government, Dr. Belin also has an academic carrier. Dr. Belin has a PhD in public health policy from Karolinska Institute in Stockholm, Sweden. He is also affiliated with KTH Royal Technology Institute, in Stockholm, where he is serving as an adjunct professor on traffic safety. Dr. Belin was also responsible for a research program funded by the Swedish Transport Administration, in order to promote research in policy, implementation and innovation within the transport sector with focus on Vision Zero.
Robert C. Wunderlich, P.E.
Keynote title: Patterns and Trends of U.S. Traffic Fatalities
Mr. Wunderlich is a Senior Research Engineer and the Director of the Center for Transportation Safety at the Texas A&M Transportation Institute. In that role, he is responsible for leading the Center's efforts in traffic safety research, policy analysis, education, and outreach. Over the past few years, much of Mr. Wunderlich's work has focused on understanding the factors associated with traffic fatalities and injuries at the state and national levels and finding ways to lower them and developing tools that allow practitioners to perform effective safety analyses.
In 2019, Mr. Wunderlich received the Burton W. Marsh award for distinguished service to the Institute of Transportation Engineers and the National Highway Traffic Safety Administration's Public Service Award for his dedication to saving lives on U.S highways by championing data-driven traffic safety initiatives. Mr. Wunderlich is a past president of ITE and was elected as an Honorary Member, ITE's highest honor, in 2021. He is a licensed professional engineer in Texas, a member of Transportation Research Board Transportation Safety Management Committee and helps edit the AASHTO Green Book as a member of the Technical Committee on Geometric Design.
Dr. Anna Anund
Keynote title: Driver fatigue – its complexity to measure and counteract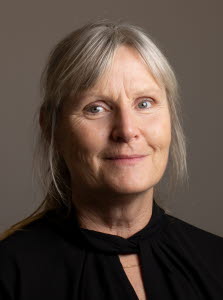 Dr. Anund is an Associate Professor at Linköpings University and Research Director, Human Factors, at VTI. Dr. Anund has a history in applied statistics and performs research on driver sleepiness and traffic safety. She has long experience in coordinating and participating in EU funded projects and is right now the coordinator of the H2020 project PANACEA with a focus on professional drivers working conditions. She has more than 100 journal publications in the area the last 10 years.