New handbook: Best practices for sweep-salting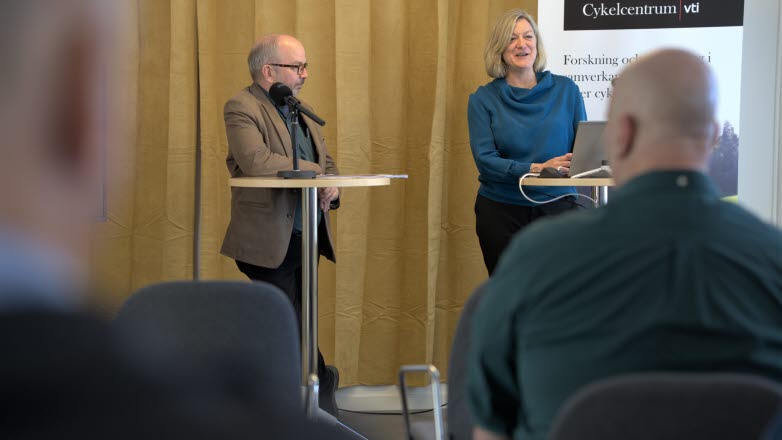 A new handbook will help municipalities to quickly and easily introduce sweep-salting of bicycle paths, and to use this method better and more efficiently.
The handbook for sweep-salting of bicycle paths was launched on Wednesday. It was written by Anna Niska and Göran Blomqvist of the Swedish National Road and Transport Research Institute (VTI) together with Tomas Stomberg of Karlstad Municipality. As the term implies, sweep-salting means that bicycle paths are swept and salted when it snows, instead of the traditional ploughing and sanding.
VTI has been conducting research in this area since the late 1990s, and the method is already in use by several municipalities. In addition to Karlstad, representatives from Jönköping Municipality and the City of Stockholm took part in the launch.
A major advantage of sweep-salting is that it eliminates the problem of leftover gravel on the bicycle paths after winter is over. A disadvantage is that this method costs more, although the costs may decrease as experience and knowledge increases. For example, Karlstad can now sweep-salt three districts at the same cost as it paid for two when the method was introduced.
"We've been working with the handbook for a couple of years and are now finally ready. It is meant to be a living document. We welcome your feedback on how we can develop and improve it in the future," says Anna Niska, Research Leader at VTI and Director of the Swedish Cycling Research Centre.
The handbook is available online and covers planning and preparation for sweep-salting, vehicles and equipment (e.g. different spreaders), templates for appropriate salt quantities, and sweeping ("the essentials of the method"). The training package also includes various forms of user support, such as videos, information materials, checklists, and practical tips and tricks for sweep-salting.
The representatives from Karlstad and Jönköping Municipalities and the City of Stockholm were all very satisfied with the collaboration with VTI.
"We would not be where we are today without this collaboration. I personally found it to be great fun and I learned a lot, particularly about how researchers work. For them, it is not enough for something to work once. You have to also test it and be able to prove it," says Tomas Stomberg.
The new handbook has been produced with support from Formas, Vinnova, Karlstad Municipality, the Swedish Transport Administration, and the City of Stockholm.
Text: Mikael Sönne
Translation: CBG
Read more (in Swedish): Handbok för sopsaltning av cykelvägar
External link.
Don´t miss out on our news – subscribe now!
Stay informed with the latest research and news from VTI. Sign up for newsletters, sent by e-mail four times a year.