From work on winter roads to head of infrastructure research at VTI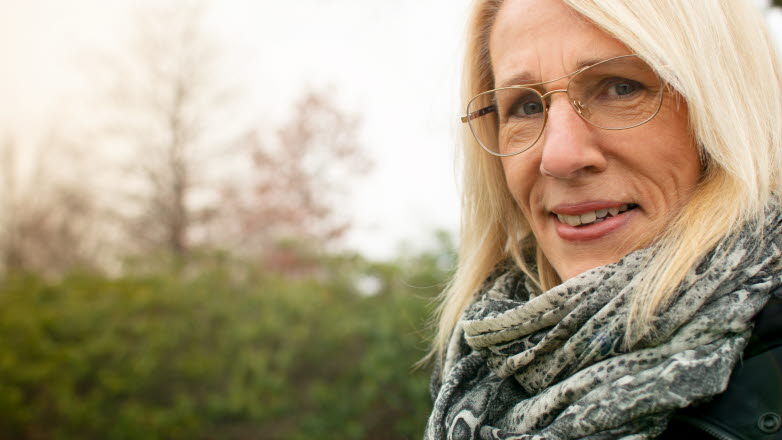 Anita Ihs' first job at VTI was to research winter road maintenance. She is now head of department and in charge of infrastructure research, with a major focus on road engineering. Her story of starting work at the research institute is a fairly typical one, and shows how finding the right job at the right time is not always something we can plan.
"I had moved from Stockholm to Linköping to study applied physics and electrical engineering: the Y programme. I had been planning to focus on medical technology, but instead chose applied physics, which was also my doctoral research. After my parental leave, I decided to leave university research work. This was when the VTI advertised for a researcher," she said.
She did not know much about VTI at the time, but the research institute was looking for a civil engineer with expertise in either in road and water engineering or applied physics and electrical engineering. That caught her eye and so she applied for the position.
"The position was for operation and maintenance, and specifically winter road maintenance. I thought that sounded interesting, and I wanted to give it a try. A lot of people thought it was funny when I got the job and joked that it was because of my surname," Anita Ihs commented.
Anita Ihs has run major projects with other researchers at VTI, mostly for the Swedish Transport Administration. After some years, she changed direction to work on the effects of road surface conditions on road users and society, for example, in a major framework project called "The effects of road surface conditions on transport", with the aim of developing effect models for the Swedish Transport Administration's maintenance planning.
Anita Ihs has also coordinated and participated in several EU and CEDR projects. She became the head of research for the department of operation and maintenance in 2009, and a few years later, in 2013, she became head of the entire infrastructure department. She had a dual role as head of research during this period. She has worked less and less with research since this time.
This was a necessary step, which enabled her to direct her attention to VTI's management team, strategic work with the department council, and as the VTI representative in various external organisations and research programmes like FEHRL, NVF, InfraSweden and BVFF, as well as a great deal of administrative work. Anita Ihs believes the future looks bright for road technology research.
"Yes, this is particularly thanks to the investment of the Swedish Transport Administration in a competence centre for road technology; VTI is one of the five participating bodies. The competence centre will ensure the continued funding of the research area and support further development by enabling us to define the direction of research with the Swedish Transport Administration and with the transport sector," she said.
Major investment is also being made in the department's heavy research equipment, upgrading existing equipment as well as new investment. The new vehicle for measuring road surfaces should be ordered soon. The measurement vehicle will use the latest technology. It can measure more parameters than before, as well as collecting more detailed information about the roadside area and road equipment, thus opening up opportunities for other VTI research areas.
Anita Ihs' area of responsibility and road technology research at VTI are currently running many exciting projects. These include electrification, electrified roads, road dimensioning for longer and heavier vehicles, infrastructure climate adaptation, especially in urban environments to cope with extreme weather, to name just a few.
"We will definitely took at ways of carrying out more research on other areas of transport infrastructure like railways and aviation."
Anita Ihs likes exercising in her free time, doing Crossfit for example, a type of functional fitness workout that works with the natural movements of the body and draws inspiration from gymnastics, weight-lifting, rowing and running. She also likes spinning, cycling and skiing.
"Exercise is very important for me; it helps me to deal with long hours of very stressful work. It is so important to take this time."
Anita Ihs is one of the VTI employees who have been selected for a series of portraits celebrating the 100-year anniversary of road technology research.
Text: Gunilla Rech
Translation: CBG
Anita Ihs
Family: Husband, two daughters and a grandchild.
Lives: Detached house in Lambohov in Linköping and a summer cottage in Roslagen.
Ager: 63.
Interests: Exercise, spending a lot of time with family, looking after the house and garden, long walks in nature and reading during the holidays. Listening to podcasts, usually on Radio Sweden, other radio programmes like Spanarna, Språket, Medierna, Lantzkampen and documentaries.