Fewer motorcycle fatalities in Norway than in Sweden, Denmark and Finland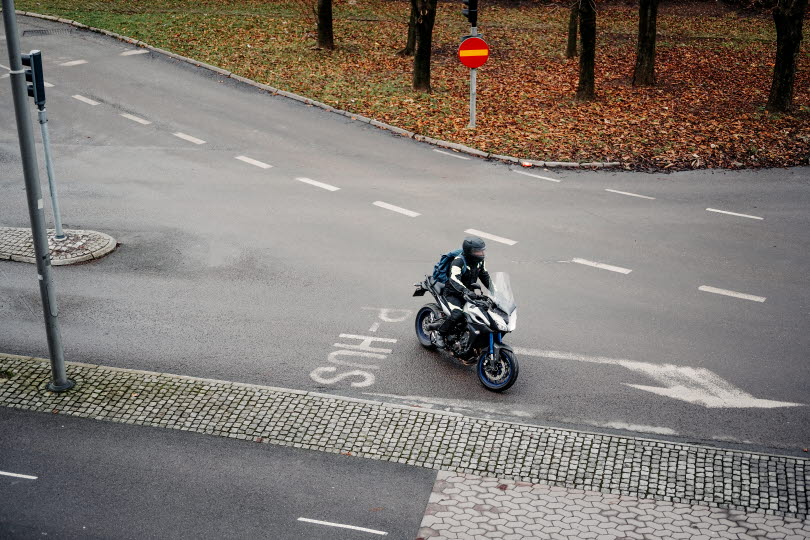 Riding a motorcycle in the Nordic countries is primarily a hobby and a summer activity. However, motorcycle accidents involve a higher risk of being killed or seriously injured, compared to accidents involving a car, as there is no seat belt, airbag or similar safety features. In the event of an accident, the body itself instead absorbs the force of the collision. Ary P. Silvano, a researcher in road safety and traffic modelling at VTI, has conducted a study on fatal accidents involving motorcycles in Sweden in comparison with our neighbouring Nordic countries.
In his report "Motorcyclists killed in road accidents 2013-2018 – a comparison between Sweden, Norway, Denmark and Finland", Ary P. Silvano describes the study in which he has compared fatal accidents with motorcycles in the Nordic countries (except Iceland). The purpose of the study was to understand how accidents differ between countries and to analyze the types of roads (speed limit, the type of built-up area, road design) on which the fatal accidents occurred. It was also of interest to study differences regarding motorcyclists' background factors such as gender, age, type of road user (driver or passenger), type of motorcycle, and the influence of alcohol or illegal or unlawful driving. The fact that every country had a different method of gathering data made the analysis work more difficult, so it was crucial to identify the right balance between various variables to enable fair comparisons across all the variables used in the study. Another problematic aspect has been the lack of exposure data, i.e., there has been no access to data about road sections where motorcyclists ride the most. As a result, it has not been possible to carry out a risk analysis. Instead, an adjustment has been made based on the number of inhabitants and the number of motorcycles.
The study is based on fatal accident statistics from 2013 to 2018. Swedish data is mainly taken from the national injury and accident database, Strada, with additional considerations for variables such as driving licence eligibility and motorcycle model, data material from in-depth studies via the Swedish Transport Administration and additional material from Sveriges Motorcyklister (SMC – Sweden Motorcyclists). Data from the other Nordic countries included in the study comes from in-depth studies. The findings in this report can support policymakers and researchers in improving road safety for motorcyclists.
When the countries are compared, these fatal accidents have several common factors that play a major role in road safety, such as whether the motorcycle is a sports model or supersport model, speeding, alcohol intake (especially among unlicensed motorcycle drivers), single-vehicle accidents, and illegal or unlawful driving. Speeding is by far the biggest factor for the countries in the study. On average, 50 per cent of motorcyclists involved in fatal accidents were driving over the applicable speed limit, and between 20 and 30 per cent were driving more than 30 km/h above the permitted speed limit, which is classified as aggravated speeding. The type of motorcycle was also of great significance. In Sweden and Finland, supersport or sports models were involved in about 40 per cent of fatal accidents. In Denmark, the corresponding figure was 30 per cent, while in Norway there was no overrepresentation of these models. Illegal or unlawful driving accounted for about 26 per cent of accidents with no significant differences between countries. Even when a comparison is made of the number of inhabitants, there was no pronounced difference between the countries in the study. Nor does alcohol influence (15–20%) differ between the countries.
On the other hand, based on the number of motorcycles, Norway clearly stood out with the least number of fatal accidents per 10,000 motorcycles. In an analysis over the years, it could also be seen that in Norway the number of fatal accidents with motorcycles had decreased over the years, which has not been the case in the other countries. Norway also stood out in that, percentage-wise, there were more women involved in fatal accidents, which could indicate that there are more female motorcycle drivers in Norway than in the other countries. In Norway, a clearly more mature age group, aged 45–64, was also most involved in fatal accidents, while the most affected age group in the other countries was those between 24-44 years. Without the aforementioned exposure data, it is not possible to find the reason for these differences.
The study's findings point to some areas where more research could benefit road safety.
One area is driver assistance so that the driver can maintain control of the vehicle, important factors in that context are to reduce speed and to review the suitability of being able to buy super or supersports models for public roads. The second area is to look at how to strengthen police surveillance, especially with regard to driving under the influence of alcohol and, last but not least, to increase or change controls to reduce illegal and unlawful driving.
"It is important that exposure data is provided. This happens in the case of cars, but not in the case of motorcycles. We see that Norway stands out as a good example, so what are they doing in Norway? It would be good to have an in-depth study on the motorcycle user group regarding these differences between Norway and Sweden," says Ary P. Silvano.
The final report has been produced with financial support from the Swedish Transport Administration via Skyltfonden (the Traffic Safety Fund). Conclusions and working methods in the report reflect the author's and do not necessarily correspond to the Swedish Transport Administration's positions, conclusions and work methods within the report's subject area.
Don´t miss out on our news – subscribe now!
Stay informed with the latest research and news from VTI. Sign up for newsletters, sent by e-mail four times a year.