VTI Plus Test of rearward-facing child seats attracts visitors from across Europe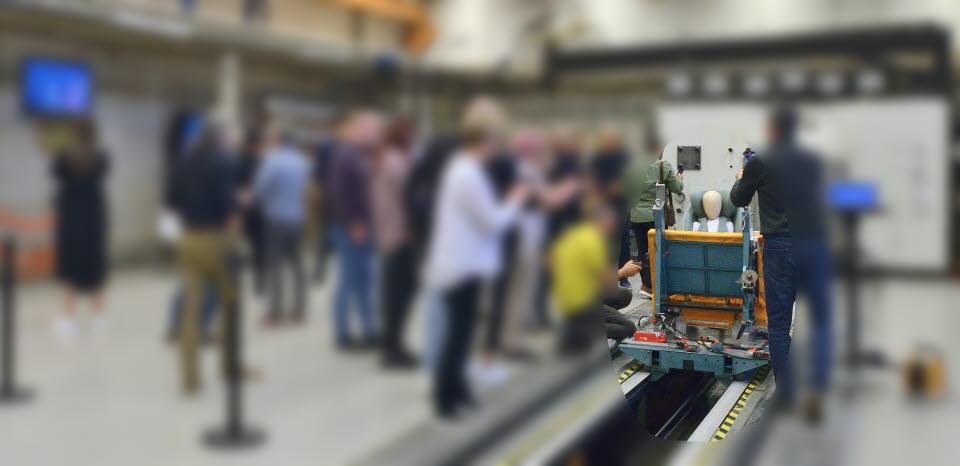 Already well-respected in the Nordic countries, the VTI's crash tests of child restraint systems (CRS) are now also attracting interest in other European countries. In May, the VTI crash track hosted a commissioned training day on the Plus Test for 58 invited guests, to demonstrate how well a rearward-facing child seat protects a child in an accident. They were also informed of the benefits of the additional Plus Test.
Although Sweden and the Swedish National Road and Transport Research Institute (VTI) have been conducting crash tests involving CRS since the early 1970s, it is rare to welcome visitors from so many European countries.

The client for the commissioned training day was Norwegian CRS manufacturer HTS BeSafe. The company is keen to train salespeople and others whose work involves providing information on child safety in vehicles in their respective countries. Visitors from Greece, the Netherlands, Spain, Poland, Romania, Bulgaria and Norway gathered at the VTI crash track for a one-day course on child safety in vehicles, and specifically the use of rear-facing child seats, which have been proven to be the safest choice for children in the event of an accident.
The day began with a brief introduction to VTI and the history of T-approved child seats, the standard used in Sweden from 1975 until 2008, and the subsequent development of the current Plus Test. The VTI Plus Test is an optional additional crash test to supplement the mandatory ECE R44 and R129 standards. Plus Tests place slightly higher demands on seats; they are conducted at somewhat higher speeds and with harder breaking, placing greater emphasis on the ability of the car seat as a single, well-protected package to protect the child's head and back in a frontal collision.
"We received extremely positive reactions to the training day and the Plus Test itself," says Emily Uddman, a research engineer at the VTI crash track. "Many of the visitors stated that they had learned a great deal from being able to witness a crash test in person; for many of them, it was a real aha moment. Even if they arrived with various levels of previous knowledge, in all likelihood this was quite an eyeopener for most visitors. The many mobile phones wielded by visitors during the day also spread the message on social media."
By now, the fact that a rearward-facing car seat provides better protection for the child's back, neck and head is deep-rooted knowledge. That said, it remains important to emphasise this and inform new generations of parents. It is vital that we do not become complacent. Nowadays we are also keen to disseminate this knowledge throughout the EU, so that parents realise the importance of children using a rearward-facing car seat as far as physically possible.

VTI began crash testing and issuing T-approval (according to the Swedish Traffic Safety Administration's certification regulations) for car seats in 1975. In 1981, ECE Regulation No 44 containing provisions concerning the approval of CRS entered into force in 15 European countries. Swedish T-approval continued to coexist with Regulation No 44 until 2008, after which it was superseded by ECE approval. VTI therefore developed Plus Test to further strengthen the status and crash protection capability of rearward-facing child seats.
Addressing a mixed group of laypersons presented some challenges. Complex issues were compounded by language barriers. It was quickly apparent to Emily Uddman and Jan Wenäll, research engineers who work at the crash track, that terminology that seems obvious to anyone working on the issues on a daily basis is by no means a given for anyone confronting them for the first time. For instance, there is a difference between the technical term stopping distance used on a crash track and the stopping distance motorists generally talk about. On the crash track, stopping distance is equal to the crumble of sheet metal, the deformation zone of a car and the effects of seat belts, airbags, and CRS, while for motorists it is the distance between applying the brakes and the vehicle coming to a halt.
"That said, it was extremely valuable to see the visitors reactions and share their experiences. Our crash test dummies don't get car sick, fall asleep or unbuckle their seatbelts. We were able to hear participants' viewpoints on how easy or difficult seats are to install, or how that might obscure sightlines. These are things we can't observe in our tests, so it provided us with valuable information. But it was probably equally important for visitors to witness this," says Jan Wenäll.
"We already have new training days booked in June and August, but we are also looking forward to hearing from other clients who want to conduct their own training courses, to disseminate knowledge about how best to protect our children," says Emily Uddman.

Text: Tiina Mauritzell/VTI