Crash safety – one of VTI's specialties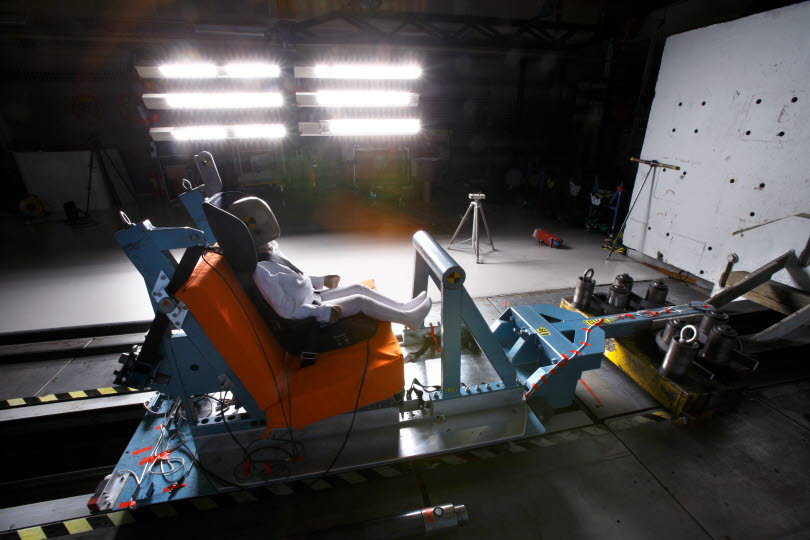 The VTI crash safety laboratory is one of few independent labs of its kind in Sweden. The laboratory is the only one in Sweden accredited to perform crash testing of child restraint systems, barriers and other road equipment.
Efforts to advance crash safety were already underway even before VTI was formed in 1971 by the research institute's predecessor, the National Road Institute. Old photos show a crash test from 1955 where a car drove down into a gravel pit and then collided with a road barrier. There was a crash test facility in a barn near Barkarby Airfield in Stockholm, research engineer Jan Wenäll remembers.
When VTI moved to Linköping in 1975, the institute added what was described as a fully functional laboratory with equipment for crash testing. Activities focused on testing protective equipment in the road environment and vehicles. In 1977, the outdoor track was completed. It was described as a complement to crash tests of, e.g., lighting poles and collision protection in front of bridge pillars.
In 1975, VTI became one of the first labs to start testing child safety restraint systems (i.e., car seats) on the initiative of Thomas Turbell, the head of the laboratory at the time. The standard was dubbed T-godkänd ["T-approved"], where "T" stood for the Swedish Transport Safety Agency. Much of the Swedish standard was included in the European regulation for child car seats, UNECE-R44. VTI also has a complement, the "Plus test", with which many manufacturers are keen to have their seats marked. There is now a new regulation for child car seats, UNECE-R129.
"In order for VTI to be able to test in accordance with the new regulation, work is underway on a new brake and crash sled, and we're also purchasing new crash test dummies, which is a really big investment. Here we have the major benefit of having our own highly qualified workshop," says Head of research Anita Ihs.
Anita Ihs sees several new opportunities for putting the crash test facilities to good use, both in internal and external projects. This may involve evaluating the crash safety of various measures in the urban environment, both for unprotected road users and in connection with new modes of transport such as moped cars, electric scooters and electric bicycles. Another exciting area is the validation of crash simulations within the context of the EU project VIRTUAL, where one of the laboratory's five research engineers is a doctoral student.
Text: Gunilla Rech
Translated by: Semantix AB